Herbarium
Internationally known by the acronym CAL, it has holdings of about 2 million plant specimens collected from different phytogeographical regions of India and abroad. The herbarium houses important classical collections that include 12,300 exclusive Wallich specimens. Apart from this, it has collections of T. Anderson, R.H. Beddome, George King, F. Buchanan–Hamilton, I.H. Burkill, C.C. Calder, C.B. Clarke, H. Collett, T. Cooke, J.F. Duthie, J.S. Gamble, H.H. Haines, D. Prain, W. Roxburgh, J.D. Hooker and W. Griffith and others. Many archival materials like Wallich Catalogue (Numerical list), original manuscripts of William Roxburgh, D. Don, J.D. Hooker, R. Wight and C.B. Clarke are also preserved at CAL. It has 6000 botanical paintings, including original set of Roxburgh's Flora Indica Drawings and colour paintings of Orchids of Sikkim Himalaya by King & Pantling.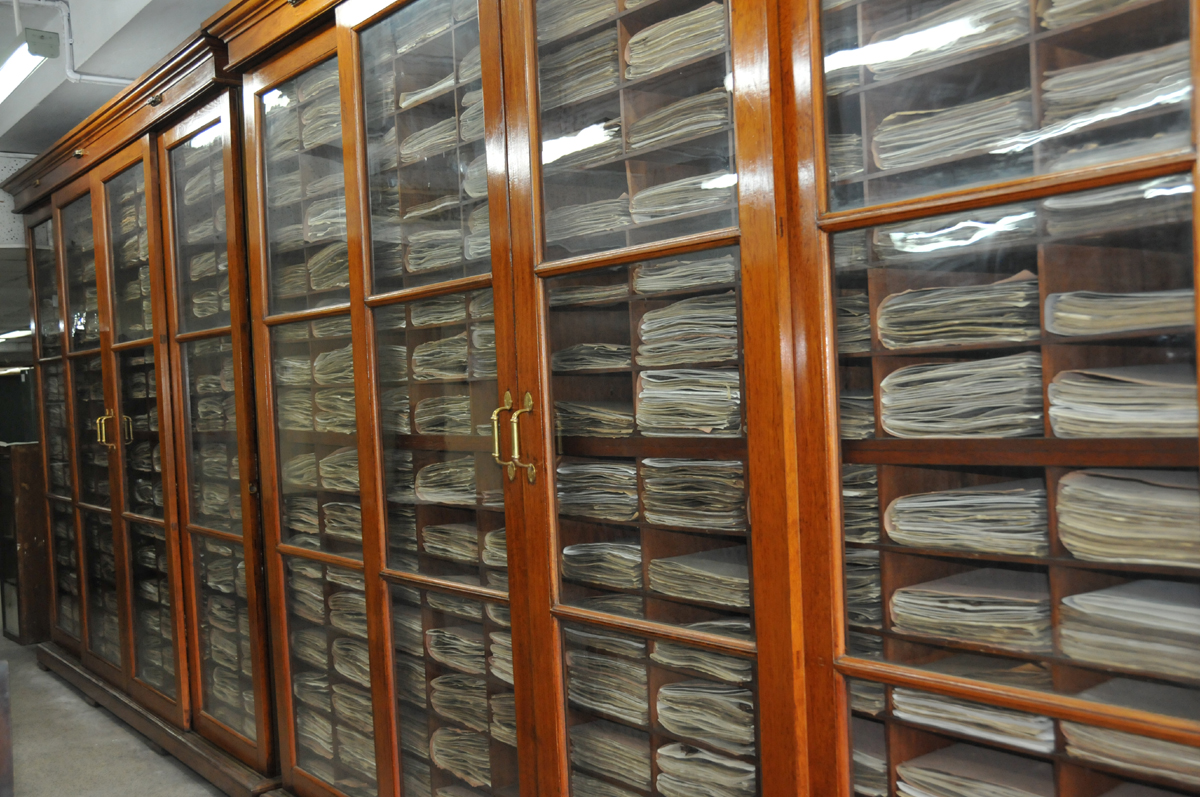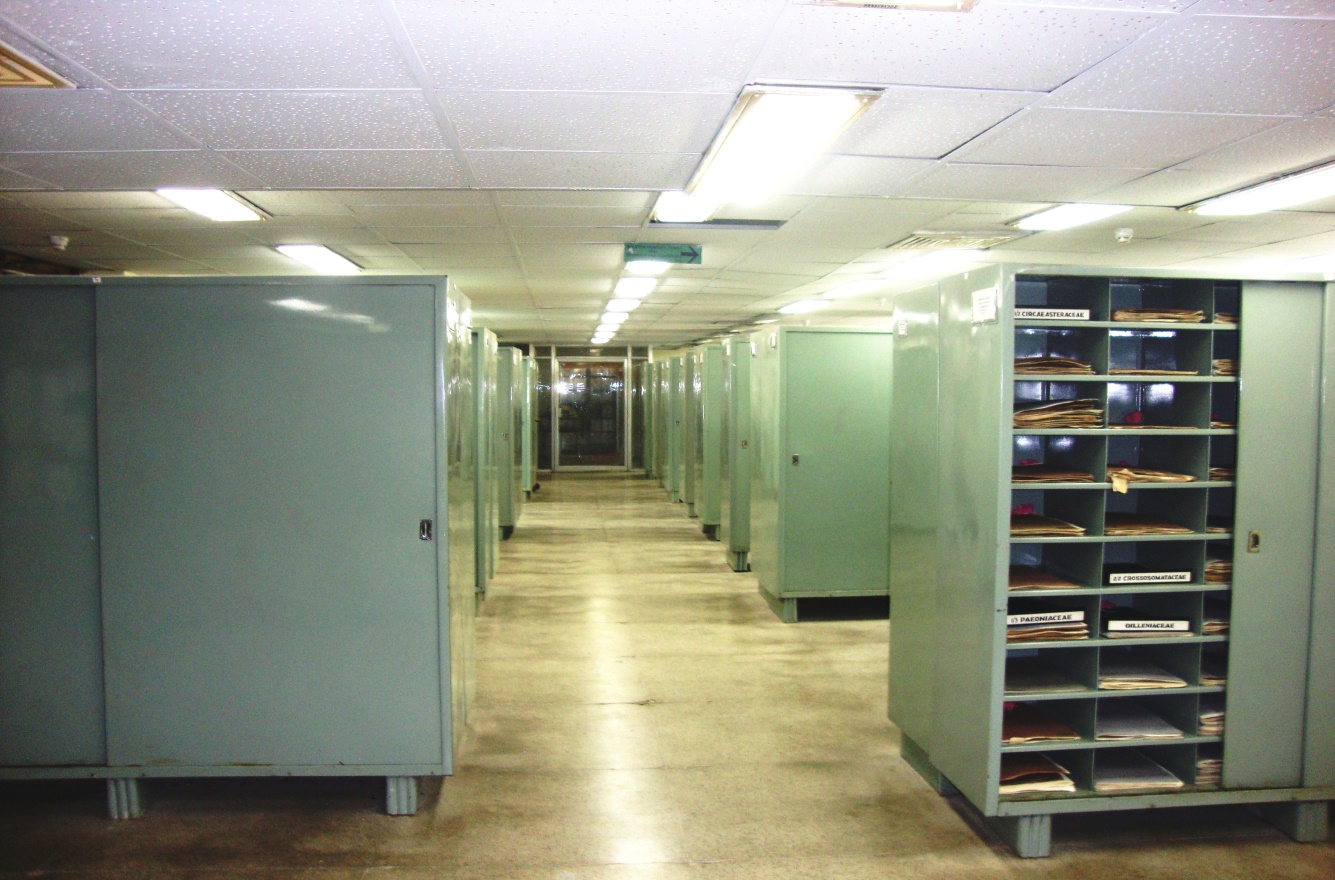 Herbarium holdings in Cryptogam section
Algae: 2520 herbarium sheets of algal specimens are housed in this section of CAL. The collections of eminent Indian botanists like K.P. Biswas and K.S. Srinivasan from different regions of India are kept here. Besides this, some algal samples collected from different area of Europe by European workers are also kept. The specimens of recently completed algal survey of Jharkhand state and also hot springs algae of Rajgir and Mungar by R.K.Gupta are added to herbarium.
Fungi: About 3718 accessioned specimens of macro-fungi are alphabetically arranged and either mounted on regular herbarium sheet or wrapped in labeled brown paper packets. These packets are kept in boxes. All these boxes of preserved/accessioned specimens are kept inside steel fabricated pigeon-hole almirah in funguraium. The collection comprises specimens of 317 species under 155 genera and 50 families. Collections from the Himalayan region includes specimens from Himachal Pradesh, Sikkim, Meghalaya and Arunachal Pradesh by J.R. Sharma, Kanad Das and Dutyparna Chakraborty representing mostly polypores, boletes and agaricoid specimens. Materials from Jharkhand and Bihar were deposited by A. Parihar and M.E. Hembrom which represent mostly polypores. R.K. Mittal's specimens are mostly from A.J.C Bose Indian Botanic Garden, Howrah. A few polypores collection were also deposited by P.K. Ghosh from Odisha state.
Notable foreign collections were made by M.C. Cooke from Europe which were brought by Kanad Das from Slovakia, are worthy to mention. North American specimens were deposited by A.A. Heller from Hawaii Island, G. Hanson, G.V. Nash (Florida), C.F. Baker, J.M. Grant, A. Nelson & E. Nelson, and E.B. Copland (Pacific slope), H. Burdsall Jr. Asian collections of A.D.E. Elmer from Philippines Island, L. Wray Jr. from Perak, Prof. Hoper from Central China, H. Kunstler and King's Collector from Malaya peninsula are also available. Several collections from different regions of India by I.H. Blackyard, J. Martin, I.H. Burkill, W. Gollan, David Prain, Sulpiz Kurz, George Watt and D.D. Awasthi are also incorporated.
Among the type specimens, there are 130 Holotypes mostly from eastern Himalayas (Sikkim) and north-western Himalayas (Uttarakhand), Western Ghats (Kerala), A.J.C. Bose Indian Botanic Garden, Howrah and in and around of Kolkata (West Bengal) and Shorea roubusta dominated tropical dry deciduous forests (Jharkhand and Bihar) and 16 Paratypes and 2 Isotypes are present..
Bryophytes: This section of CAL has about 11200 specimens of bryophytes. The major collection of mosses from North Eastern States (Gangulee, 1969–1980) and Darjeeling (P. Saha), while Liverworts and Hornworts collection from Sikkim (D. Singh, D. K. Singh and M. Dey), Arunachal Pradesh (D. K. Singh, S. Das, M. Dey, S. Majumdar and S. Singh Deo), Himachal Pradesh (S. K. Singh and D. K. Singh), Darjeeling (M. Dey), Jharkhand (D. Singh). The bryophytes of Larsemann Hills, Antarctica (D. Singh) are also kept here. Apart from above, various scattered collections from Andaman & Nicobar Islands, Arunachal Pradesh, Odisha, Manipur, Nagaland (J. Lal, J. P. Ghosh, B. D. Kar, D. K. Singh) and some of the century old collection of G. Watts, G. King, D. Prain and S. Kurz are also housed here. Various sets of collection from Western Ghats and Nilgiri hills were gifted by Lucknow University, Lucknow, (LWU) and liverworts and mosses from Australia, Papua New Guinea and Malayasia collected by Fr. Verdoorn are also deposited here. Apart from general collection, 40 type specimens of liverworts and 503 type specimens of mosses are also available.
Pteridophytes: This section has 65,000 specimens from different phytogeographical regions of India and abroad. The important collection of 19th Century and early 20th century by Nathaniel Wallich (266 specimens) and A. Henry (593 specimens), T. Cooper, J. Anderson, A.A. Heller, R. Spruce, L. Wary Jr., J.S. Gamble, J.F. Duthie, C.B. Clarke, G. King, D. Prain, H.J. Walton, H.C. Levinge, A. Meebold, P.W. Mackinnon, J. Scott, M. Scott are housed here. Besides, the collections of Indian botanists like G. Panigrahi, P.K. Hajra, N.C. Nair, K. Thothathri, J. Ghatak, A.S. Rao, B.D. Sharma, D.B. Deb, A.K. Dutta, S.R. Ghosh, R.D. Dixit are also kept. The collections include about 350 Type specimens.
Lichen: This section has about 3500 specimens collected mainly from Eastern Indian regions.
Type collections
The CNH has two type sections (Dicots and Monocots) containing about 20,722 type specimens belonging to various categories such as Holo/Iso/Para/ Syn/ Lecto/Isolecto/Neotypes. The type specimens (20722) along with Wallich's collections (12300) have been kept in separate cabins for easy accessibility. There are about 20000 negatives of Indian Type specimens housed at Kew sent by IBLOs from Kew herbarium. There are also about 2300 cibachromes and 4500 scanned images of types from Kew (K) and other European herbaria.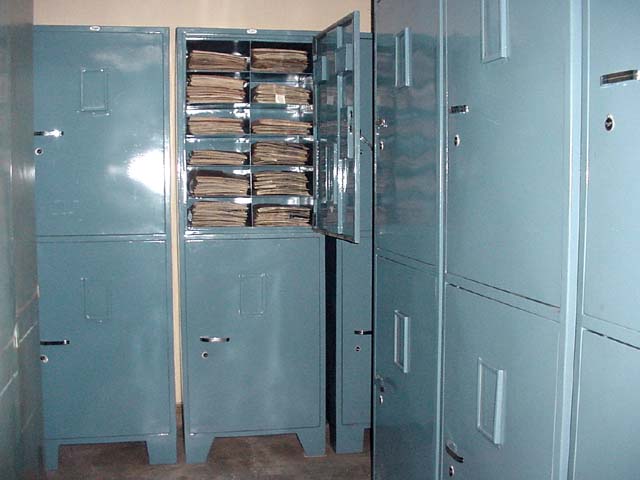 Type herbarium

Digital Herbarium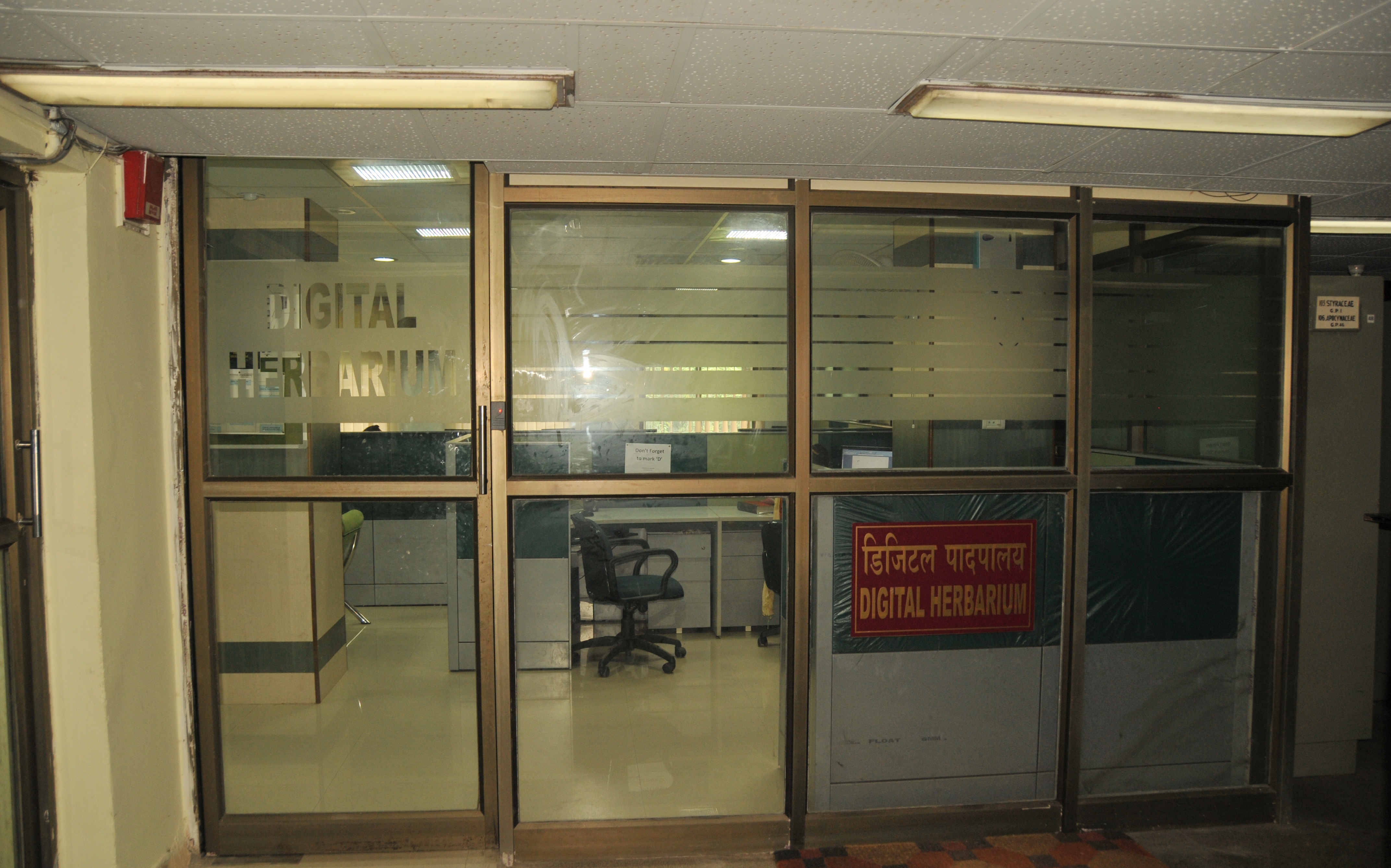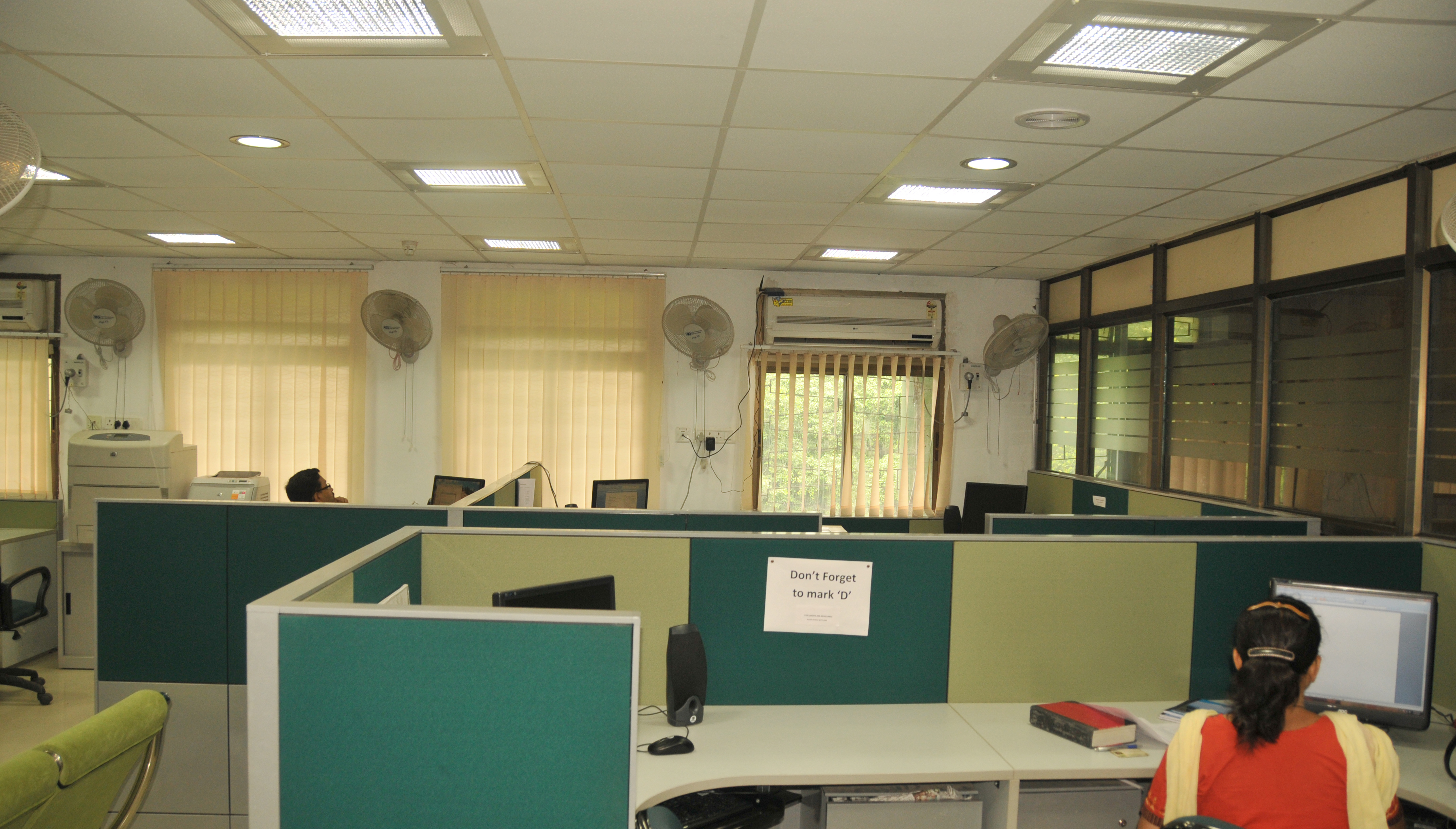 Archival materials holdings: Central National Herbarium has voluminous collections of paintings of Indian plants and documents, including the monumental work of Wallich Catalogue (Numerical List of Plants) 1829-1849. There are about 6000 illustrations and paintings of Indian plants, which include 2595 Roxburgh paintings done by unknown native artists. The drawings known Roxburgh's Icons made by talented local artists are kept in 35 volumes in CNH and these include the plants described in his Flora Indica. The collections also includes 3172drawings/illustrations and colour and black & white paintings sketched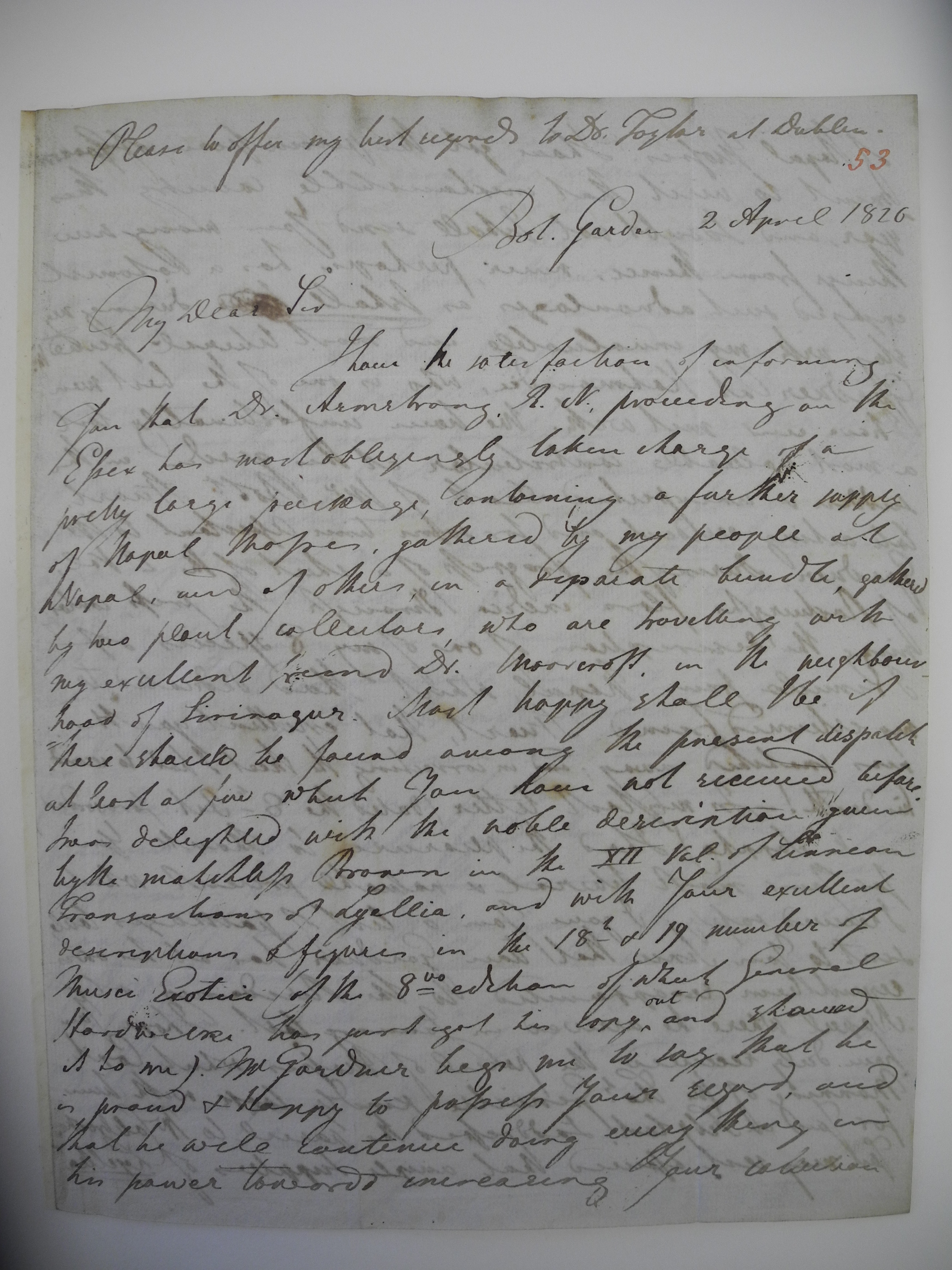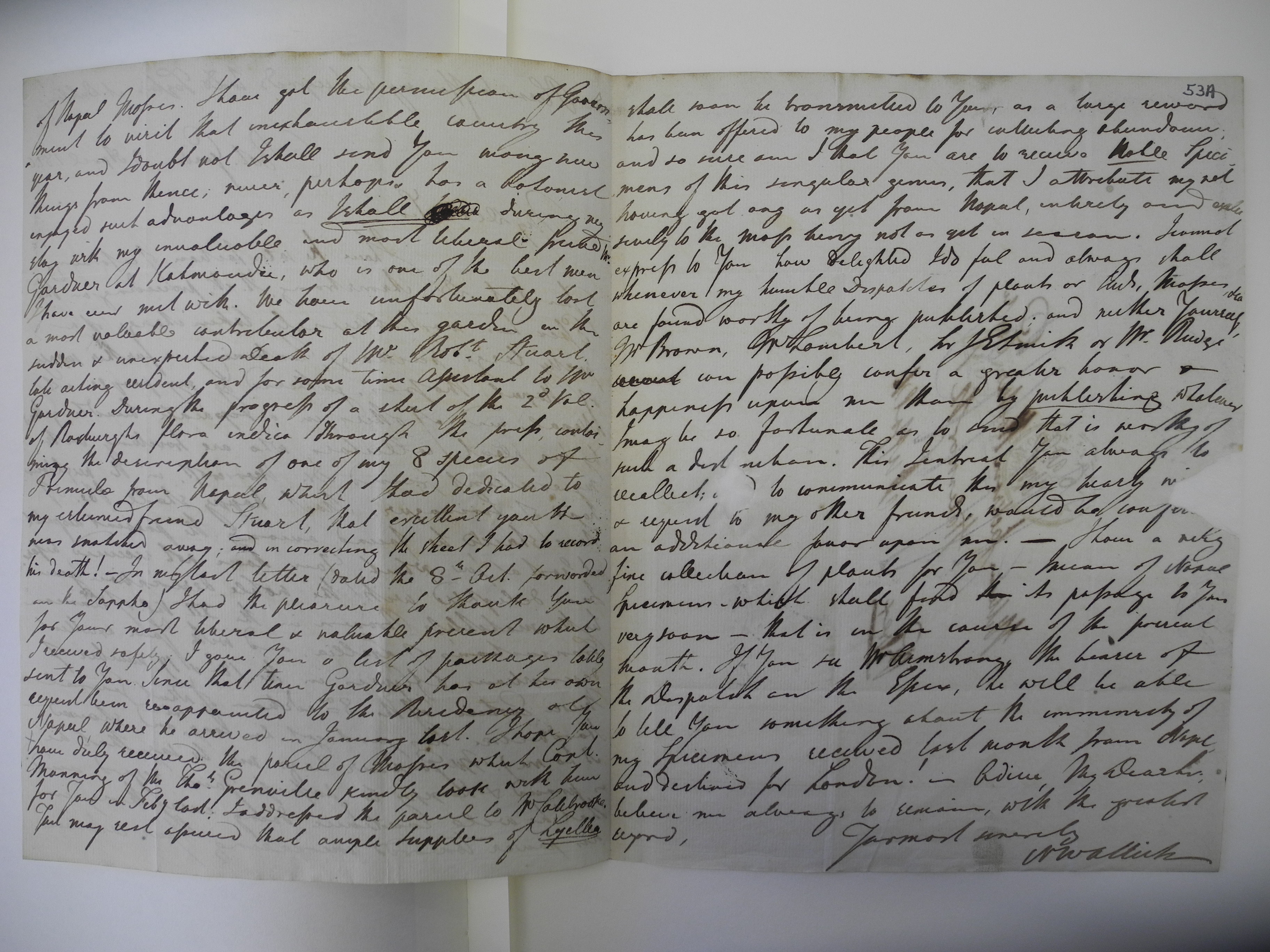 mainly by K.P. Das, A.N. Banerjee, D.N. Chowdhury, Gopal Dutt, H.B. Dass, Madhab Chandra, L. Singh, S.B. Ghose, F.B. Das, G.C. Das, Kalidas Pal and others, during the period between 1810-1870. There are multifarious documents in the form correspondences among botanist during 19th and 20th centuries, portraits and correspondence received by Nathaniel Wallich during his tenure as Superintendent from different part of the world in 30 volumes.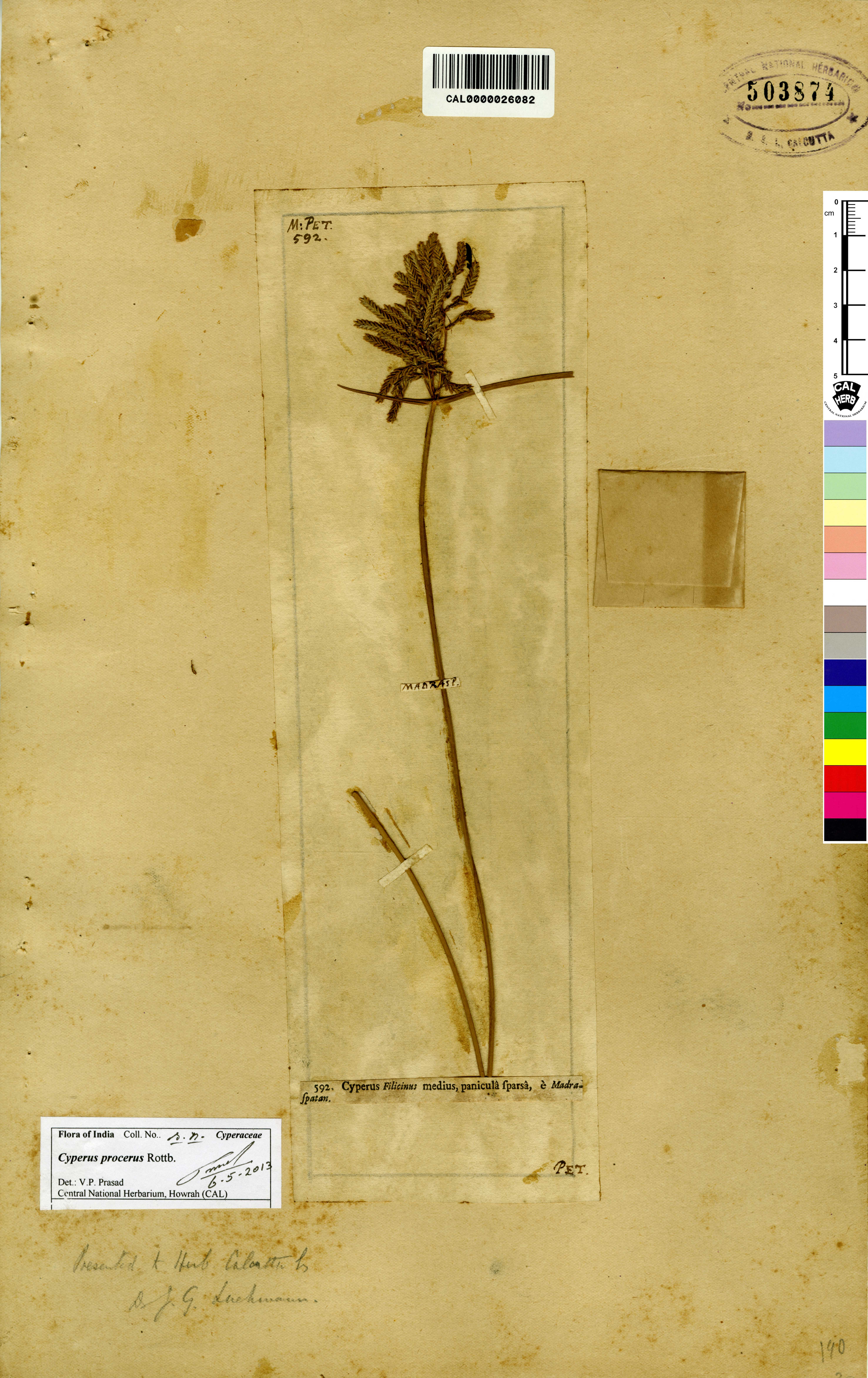 Oldest Herbarium specimen in India collected in June 1696 by Dr. Samuel Brown
from a locality between Madras and Tirupati.